View a TRAILER of
Melting Pots of Mishawaka Below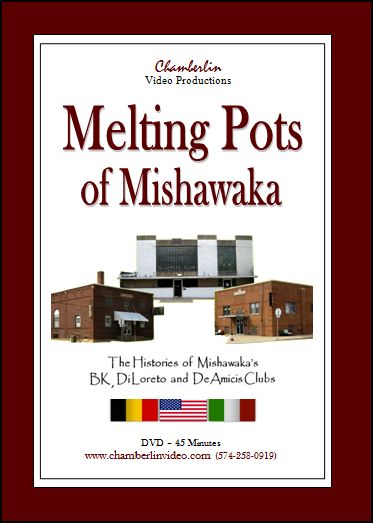 Melting Pots of Mishawaka
In the early decades of the 1900's, the newer immigrants settling in Mishawaka created organizations to help each other with the difficult transitions to their new lives in America. This documentary presents memories and histories of the only three of those organizations that are still active in Mishawaka today.
The DeAmicis Club The BK Club
The DiLoreto Club

Check Out Our Other Available Titles!

Click on Icons to View Preview Clips and/or Order Your Copies Today.
(plus Shipping and Handling)
(7% Sales Tax Required for Indiana Residents)
Downtown Mishawaka, Ball Band, On Solid Rock, Down to Fame,
Kamm & Schellinger & Melting Pots of Mishawaka
are also available at:
Mishawaka Hardware & Paint
510 N. Cedar Street - Mishawaka