The Lincoln Highway Story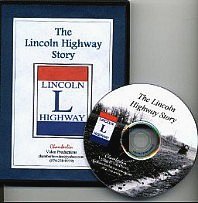 The Lincoln Highway Story tells the history of how this famous highway originated. The Lincoln Highway was the first coast-to-coast highway in the United States, created at a time when any paved roads leading outside of towns were rare.

This story of bold entrepreneurs and adventurous pioneers is told though an effective blend of historic photographs, vintage film clips and interviews with Dr. Patrick Furlong, Professor Emeritus, Indiana University, South Bend, IN and Jan Shupert-Arick, author and past president of the Lincoln Highway Association.

Produced in conjunction with the 3rd and 4th grade Indiana state curriculum guide about the Lincoln Highway, this fascinating story can be enjoyed by children as well as adults.
Available for Purchase
at the
or
BUY ONLINE NOW