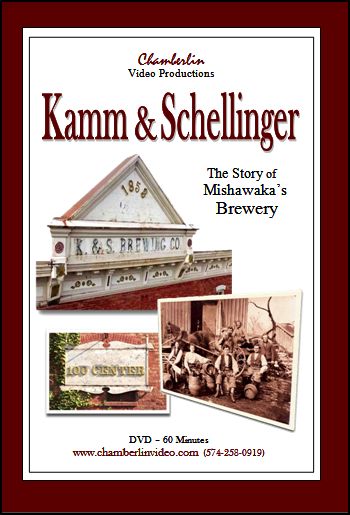 Kamm & Schellinger
The Story of Mishawaka's Brewery
Walking through the deteriorating portions of the once thriving
100 Center shopping complex can bring back memories of
The Ice House restaurant,
Just for the Record music store or
The Rathskeller pizza parlor.
Few people today, however,
have
structures belonged to one of
Mishawaka's
most successful industries:
The Kamm & Schellinger Brewery

Check Out Our Other Available Titles!

Click on Icons to View Preview Clips and/or Order Your Copies Today.
(plus Shipping and Handling)
(7% Sales Tax Required for Indiana Residents)
Downtown Mishawaka, Ball Band, On Solid Rock, Down to Fame,
Kamm & Schellinger & Melting Pots of Mishawaka
are also available at:
Mishawaka Hardware & Paint
510 N. Cedar Street - Mishawaka